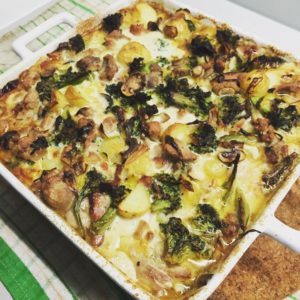 We're in full swing winter mode over here in Brisbane. Well as winter as you can get in Brisbane with a daily average of 15 degrees celsius. Lately I've been making soups and other wintery food. I had a lot of broccoli in my fridge and decided to use this as a soup base. I did some searching online and found some appealing recipes with a combination of ingredients including some baked recipes. I was on my way home to make another soup and somehow 2 hours later I had this delicious baked dinner ready to eat. Here is the recipe for this tasty broccoli, leek, chicken and speck baked meal.
Serves: A small army
Ingredients
2 leeks, white stem only (cut lengthways, then quartered)
3 cloves of garlic (crushed or sliced)
600 grams of broccoli florets (cut smallish sizes)
500 grams of low carb potato
250 grams sliced mushrooms
750 grams chicken thighs (diced)
350 grams speck
1 cup coconut milk
8 eggs
Instructions
Preheat fan forced oven to 200 degrees celsius
Fry the leek in a wok or pan for 3-4 minutes then add to large mixing bowl
Slice the speck lengthways into thick pieces (roughly 5mm each) till golden brown. Then slice into toothpick like pieces then add to mixing bowl.
Using the oil from the speck fry the mushrooms off and add to mixing bowl.
Stir fry/steam the broccoli until slightly soft but not too soft. Add to the mixing bowl.
Stir fry garlic for a minute then fry off the chicken till no longer pink.
Beat the eggs in a smaller bowl and then beat in the coconut milk.
Pour this into the larger mixing bowl and stir well
Steam or slightly boil to half soft the potatoes then quarter each potato. Add this to the mixing bowl if there is room.
Add the chicken and other ingredients to your baking dish and stir well.
Add some spices to taste. I used a dry mix of rosemary, ginger, pepper and chilli flakes.
Place the dish in the middle of your oven at 200 degrees celsius for 35 minutes.
Check to make sure the top has browned nicely then reduce the oven to 160 degrees celsius and cook for another 30 minutes.
Notes: 
To make this vegan/vegetarian replace the meats with more vegetables such as carrots and zucchini. Use your favourite egg substitute to bind it all together.
This also freezes well to have for lunches later.