I've just completed my first flight on with Japan Airlines economy and I have to say I'm pleasantly surprised. There were more facemasks then usual on this flight due to the ever-present threat of the current virus sweeping the globe, the coronavirus. I had a trip planned to the US late last year and I was going to fly with Cathay Pacific as I am a Marco Polo member. I was treated terribly by their sales staff and decided to choose another airline.
Using the Flight Connections website I was able to find routes and airlines that suited my needs. I have friends in Chicago so I decided to go via Japan which opened me to choose to fly with Japan Airlines. Here is my quick review of my flight with Japan Airlines economy class.
Booking experience
I always book my flights directly on airline websites after having a bad after-sales experience with a 3rd party site. The website isn't the best experience to book or search. It worked well enough and I was able to book and pay for my flights relatively quickly. Their mobile app, on the other hand, is a steaming pile of fail. What a useless terrible piece of software. As the reviews on the Apple AppStore say, fire whoever built this app.
One word of warning, check your ticket if you're flying through Japan. If you're flying from Vietnam like I was, you will have to change airports in Tokyo. Even though the different airports are listed on the ticket, they have no messages in the reservations or anything else to notify you that you need to change airports. This airport change is a 1.5 hour travel time between the 2 airports and this is not included in the ticket price. You will also have to get your luggage and check-in at the other airport. They do not check luggage through or assist you at all.
After landing in Tokyo, there was someone waiting to tell me that I needed to get a bus and bus times. She didn't tell me where the bus was or that I had to buy the ticket 3200JPY ($30 USD) myself. I found the ticket counter, purchased my ticket and waited an hour before departing. I managed to just get enough time to travel to the other airport, check in to the new flight and get to the gate with 10 minutes to spare.
Japan Airlines Economy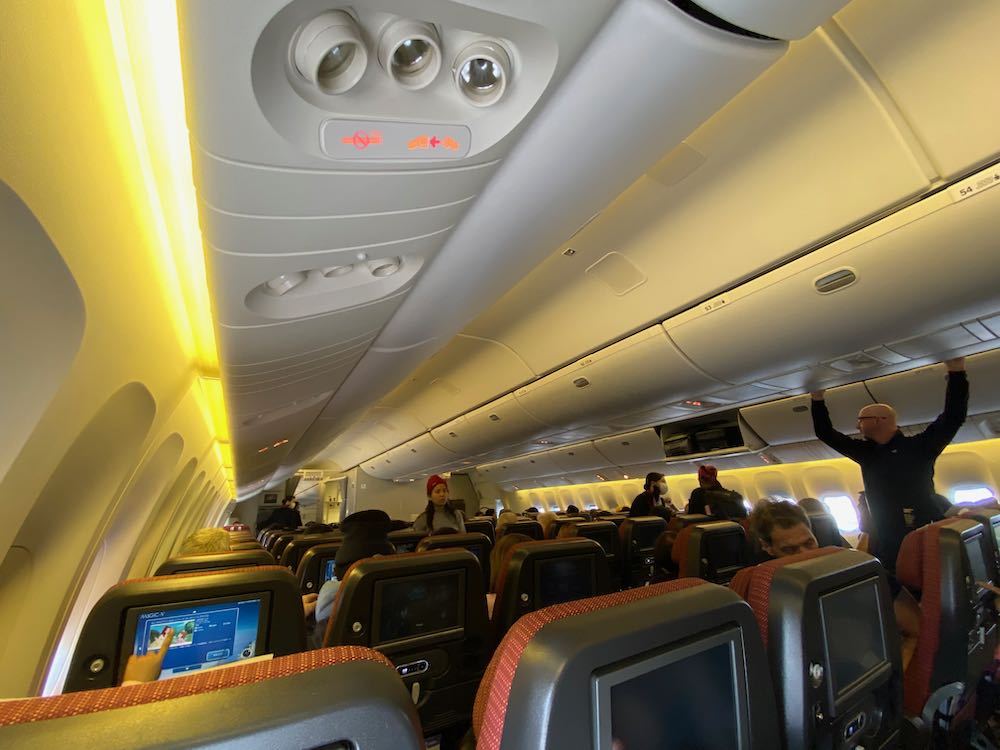 I flew economy because I'm a tight ass and would rather spend the difference on the rest of my trip then just getting here. I didn't know much about the experience with JAL. A quick search showed that it has the biggest economy seats and legroom. From all the international flights I've done, I'd have to agree. The seat is wider than usual and I had plenty of legroom. I had 2 different flights and both had equally large amounts of legroom. I was able to stretch my legs and sleep comfortably for most of the flight.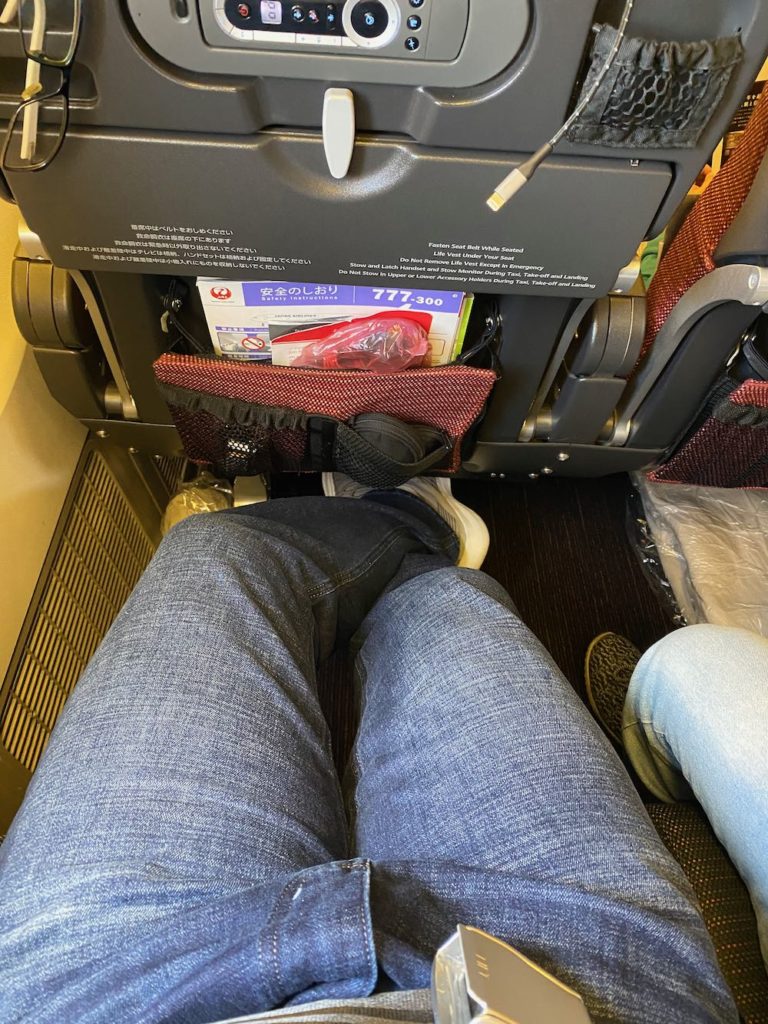 The first leg of the flight the aircraft was older, but it was still very comfortable. The longer leg from Japan was on a 777-300 and was a nice simple design. The interior decor isn't fancy and is quite boring but it suits the purpose. The economy class and premium economy classes look to be where JAL spend their money. The business class seats didn't look very appealing, to be honest.
Food
The food was one of the highlights on the flight for me. Both the meals on the long haul flight were great. So good that I would happily pay to have a plated version at a restaurant. I had a Japanese style beef dish for my first meal and then cajun chicken rice for the second dish. Both of these dishes tasted amazing. I was very surprised to get served these two dishes on this flight. I had read that the food was good, but It's some of the best airplane food I've eaten. If this is the quality of the food they served in Japan Airlines economy, I'm very curious about what premium, business and first-class get.
Service
The staff were very accommodating and friendly. My biggest complaint was how long the food and drink services were. From the front to the back of the plane, it was over an hour of service. This was due to the fact that each isle only had a single cart with a single crew member serving. Unlike other airlines that will have 2 crew members per service, they only had one. The crew members were having to go back to the main stations to refill their carts regularly which slowed down service even more. This isn't a complaint of the crew but more of the processes and design that Japan Airlines has chosen overall.
There were several passengers being very picky with their meals so the staff were being overly accommodating. They should be like other airlines and just be clear that if you didn't order a special meal with your ticket, you don't get one.
Final Thoughts
Overall I'd have to say my experience with Japan Airlines Economy was very good. I got a lot of sleep and the food was great. For the taller people out there, I couldn't recommend JAL highly enough. The seats are comfortable, recline more than usual and the legroom is more than enough for most. The staff were friendly and the boarding and deboarding was quick and easy. If you've got a long haul flight coming up you should consider Japan Airlines.