Disclaimer
I am not a tax accountant, I am not a legal expert. All of the following information is based on my own personal experience and research. I would highly recommend speaking to an accountant in your jurisdiction as well as in the jurisdiction you are opening your entity. When it comes to dealing with taxes in the US, I would recommend Online TaxMan. 

Opening a company in the US will not give you access to a citizenship path or residency. This is purely to provide a simple business structure to get your company off the ground. 

All of this information is related to foreigners (Non-US resident/Non Citizens). If you're a US Citizen, this information won't be of much use to you. 
Open your US LLC in Wyoming
There are a multitude of companies out there offering to make this process easy for you. Now I haven't personally used any of those companies. In my usual stubborn thought process, I said to myself, I'm not paying that, I can totally figure this out myself. Turns out, you too can do it yourself. My research found that a US LLC in Wyoming made the most sense for my circumstances.
If your company and product is going to more global or US-focused it can make sense for you, to open your company in the United States instead of your own country. Now, if all your customers are in your own country, then you should probably open it there. Opening a company in the US will give you access to a much simpler ecosystem for your business and infrastructure than you might otherwise have at home.
The process, once you know it is straight forward. You can save a few hundred dollars doing this yourself. When you're first getting your company started every dollar counts. It's also very important to understand the process for opening your business no matter where you open it.
I'm also going to give a bit of a summary of my research that lead me to my decision. If you have already done this or just want to get started right now, skip to the How to steps.
Why the US?
If you're not based in the US why should you open an entity there? There are a number of advantages to opening your company in the US compared to other jurisdictions or in your home country. These are just some of the reasons that I have found to be worth noting.
Operating costs and startup time
When opening your company there can be a range of costs and fees required to get your company open and maintained. Here in Vietnam it cost me several thousand dollars to get my company open and months of time. For a US LLC the fee structure is very straight forward and time it takes to get your company open is days, not weeks or months.
Easy fee structure
State Filing fees
Annual fees
Registered agent fees
Taxes
This is always the first reason given to opening a company in the United States as a foreigner. Generally foreign owned entities pay no taxes in the US. You pay them in your country of residence. Although this is the most commonly pushed reason, I don't believe it is the most important. You should talk to a tax professional at home to make sure you're doing everything right. Company and personal taxes should be taken seriously.
Payment gateways
If you're from a country that has complex financial systems, access to payment gateways can be a non-starter for your business. Opening your company in the US means you have access to all the popular payment gateways that you might not have access to in your own country. This also ensures that you can provide confidence to your customers by using
When building your product you should be looking to use a payment gateway that supports as many payment options as possible. It should also be easy This is why the following are some of the most commonly used gateways for developers. Easy APIs is another reason the following are chosen.
Stripe
Paddle
Square
PayPal
I believe this is the number one reason you should be looking to opening your tech startup in the US. Setting up your payment systems for your product is the most important part of the process. Without easy to use payment systems so that you can easily process payments from your customers, your company could be a non-starter.
Paperwork is easier
When it comes to setting up and running your business paperwork is part of the parcel. With an LLC in the US, it's a straight forward process. The reporting is easier and the barrier to entry is much lower than elsewhere. The US has very business friendly legal frameworks which can help you throughout the lifecycle of your company.
Access to capital
When it comes to getting funding and support, the US is probably the best place to get access to capital. Startup accelerators, Venture Capital and private investors are everywhere and having your company based in the US gives your investors much easier access.
Why Wyoming?
There are a number of states in the US where you can open your LLC as a foreigner. There is really only two options for a foreigner that make sense to me. Delaware or Wyoming. Both have great corporate law structures, low taxes and operating fees.
So why Wyoming? To put it simply, it's cheaper to get started. There are a number of other advantages for Wyoming over Delaware which include some of the following:
No state corporate tax
No state income tax
No tax on corporate shares
No franchise tax
Lower filing fees
Lower annual fees
Stockholder privacy
No annual report required after first filing year
| Fee | Delaware | Wyoming |
| --- | --- | --- |
| Initial filing fee | $89 | $100 |
| Same day filing fee | $100 | Not available |
| Annual Fee | $300 (franchise tax) | $50 |
| Change of registered Agent | $50 | $0 |
| Certificate of good standing (some banks need this) | $50 | $0 |
Fee comparison between Delaware and Wyoming
Company Banking
In the past, opening a bank account in the US was difficult if not impossible. The big banks all expect you to rock up to their branches and provide more paperwork than the printed US tax law. Thanks to new startup's like Mercury that process has become a lot simpler. I would highly recommend using Mercury for your startup. The process for opening an account with them can be done completely remotely with no need for a physical visit. They also have a bunch of cool perks to get your business off the ground.
Once you have an account open with Mercury the second financial step I would recommend you take is opening a business account with Wise (Formerly Transferwise). Wise is a great way to pay your contractors, suppliers and yourself in various parts of the world. It can also save you a bunch of money in international wire fees.
Registered Agents
In United States business law, a registered agent is a business or individual designated to receive service of process (SOP) when a business entity is a party in a legal action such as a lawsuit or summons.

Wikipedia
When it's time to open your company you're going to need to use a registered agent. This is the business that will help you get your company incorporated, will usually be your registered business address. You could attempt to file all the documents yourself with the state, but I would advise against doing this.
Registered agents also provide a range of other services in their annual fee.
Registered address
Mail scanning and forwarding
Corporate templates
Phone and fax services (yes, fax services)
The two most popular registered agents that I found were Legal Zoom and Northwest. While both of these are well known agents and have easy to use systems and good reviews I wanted to see if I could save even more. In my search I found a range of national and state-based agents to choose from. In the end I went with Best Wyoming Registered Agents. They are a state-based agent that is an affordable, no frills option that fit perfectly within my budget.
| Agent | Agent Fee |
| --- | --- |
| LegalZoom | $299 |
| NorthWest | $125 |
| Best Wyoming Registered Agents | $50 |
Registered agent cost breakdown
Opening your company
There are a number of steps required to getting your company up and running. This includes opening opening your LLC, taxes and banking. These are the steps I took to getting my Wyoming LLC. These steps includes everything you need to start operating your company.
Name your company
Get a registered agent & submit paperwork
Get an EIN (Employee Identification Number) from IRS
Open bank account
Step 1 – Pick a name for your LLC
Pick a name for your company and do a name search. You do this at the Wyoming secretary of state website. If your search returns no results, you're good to go.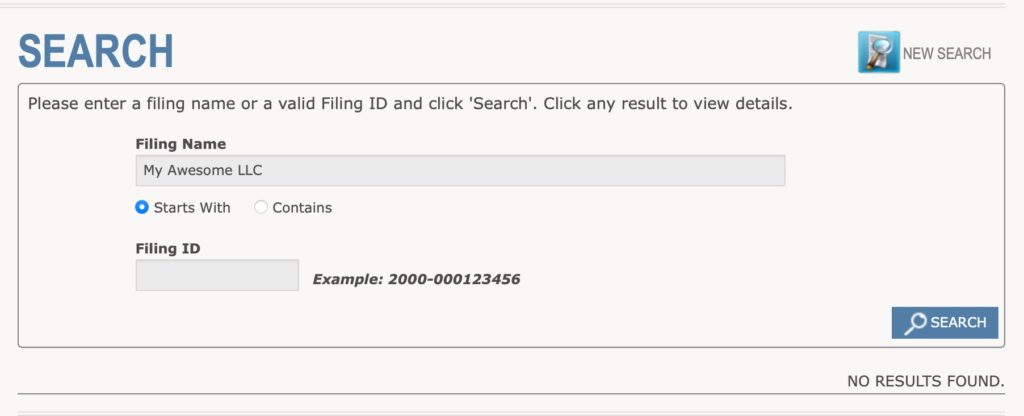 Step 2 – Sign up with Best Wyoming Registered agent & submit paperwork
Go to https://www.bestwyomingregisteredagent.com and sign up. Fill out the details and get your Wyoming LLC underway. You can signup with any agent you like, this is just the one I use. The process took 2 days for me to get my incorporation papers. Once I had those, I was ready to get my EIN.
Step 3 – Register with the IRS to get your Employee Identification Number (EIN)
Your EIN is your tax identification number for your company. Banks will need this when opening an account, so will your payment gateways as well as your annual tax filings with the IRS. This takes a bit more time, but the savings is totally worth it.
As foreigner we can't use the online registration system that provides the EIN instantly. We have to use a fax. Yes that's right, we're going to be faxing our application to the IRS. Why would we want to do that? The 'fancy' registered agents provide this as an add-on that can cost up to an extra $250. We're trying to get our company started for an affordable price.
There are a bunch of online fax services that allow you to send a fax much like you'd send an email. I used HelloFax for getting this done.I signed up for their $9.99 plan because you need to be able to receive a fax from the IRS with your EIN once its processed.
You will need to download and fill out the SS-4 EIN application form from the IRS. This form is pretty easy to fill out and makes sense just by reading the various parts of the form. If it is still too confusing, check out this video from Jim Baker on YouTube that takes 5 minutes to fill out.
Once you've filled out and signed your form its time to fax it to the IRS. The fax number is listed on the following page of the IRS website: https://www.irs.gov/filing/where-to-file-your-taxes-for-form-ss-4.
You can wait a week then call the IRS and they will tell you your EIN over the phone. They will then fax the details to your fax number and then the EIN official paperwork is mailed to your registered agents address. The phone call to the IRS took about 5 mins including hold time. It was actually a very pleasant and easy phone call.
Step 4 – Get a bank account
Once you've got your LLC paper work and your EIN its time to apply for a bank account. Head over the mercury and start the application process. Be sure to provide as many details about your company and product as you can during the application. To be honest you should already have your business plan and areas of business written out so you can easily provide this information to anyone that asks for it.
When I applied for Mercury it took a couple of weeks to get approved, however I do believe that their application and approval process is much quicker these days.
You're good to go
You're now ready to start operations. This includes applying for your payment gateways and other parts of your business to get started.
What did it cost for me to do all this work myself and was it worth it?
After years of research and general reading, I decided that I would go it alone and get this done. Was it worth it? Totally worth it. Here is a quick break down of what it cost me to get my US LLC opened in Wyoming
| Process | Cost | Time |
| --- | --- | --- |
| LLC Opening | $200 | About 30 mins + 2 days waiting |
| EIN | $9.99 (hello fax service) | 15 mins filling out forms and faxing + 7 days for processing |
My total costs for opening an LLC in Wyoming
Where did I find my information
I have been researching company formations in various countries for a number of years. During that time I have used a multitude of resources for this. Here are some of the better resources that used while researching opening my US LLC.
Please note: There are some affiliate links in this post. If you click that link, I'll get a commission without costing you anything. I'll earn a few dollars and buy more coffee, so I can write more posts like this.