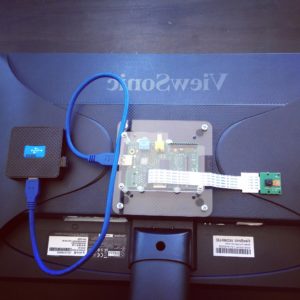 After a few weeks of using my 50″ television as a display while working on my time-lapse project it quickly became hard to work with. I decided to downsize to a desktop workstation solution. I don't have much space in my apartment so I needed a compact solution that I could pack up when I'm not using it. A small computer monitor with a raspberry pi case would work. I found a VESA mount raspberry pi case that I could use and thought this was a very compact solution to my problem. It's also a very clean way to keep all the gear in a nice tidy package.
The VESA mount I got came from Adafruit who produce a bunch of great products for the raspberry pi and the arduino. You can find the mount here. I selected the ViewSonic monitor because it comes with the VESA mount point and a stand. My current Samsung display the stand plugs into the VESA mount which won't work for my setup.
My solution for my new compact raspberry pi workstation is the following
ViewSonic VA2246M 21.5″ LED LCD monitor
Raspberry Pi VESA Mount
Dell USB keyboard
Dell USB Mouse
4 Port Powered USB Hub
ASUS N10 wireless
The VESA mount came in a snaplock bag with no instructions and I didn't find any with a quick search so I thought I would go through the steps required to put it together. You can check out the gallery below.