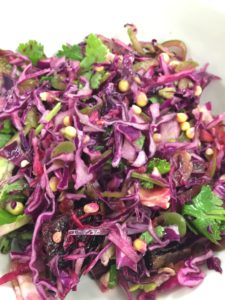 Every week I try to create a new salad and I have experimented with raw cabbage salads for a while now and I tried a new one last night that I think is pretty good. It's simple and doesn't take too long to make. There are only a few ingredients to this and a bit of time to roast the beetroot. This is vegan and gluten-free and all my ingredients are organic from the local weekly markets.
Serves 5 Adults a lot of salad
Ingredients
Half a medium red cabbage
2 large beetroot
1 corn on the cob
Handful of coriander (cilantro)
1 medium green capsicum (pepper)
4 tablespoons of olive oil
4 tablespoons of apple cider vinegar
Salt & Pepper to taste
Directions
Beetroot prep
Pre heat the oven to 180 C.
Slice the top and bottom off the beetroot to make it flat. Cut the beetroot into roughly 1cm thick slices.
Drizzle 1 tablespoon on a baking tray and then place the slices on it. Drizzle another 1 tablespoon of olive oil over the slices and sprinkle with a bit of salt.
Once the oven is ready put the slices in and leave on one side for 10 minutes before turning over and leaving for another 10 minutes then remove and allow to cool completely.
Once they are cool, slice into cubes ready to add to the bowl.
Salad
Slice the corn off the cob into a large mixing bowl.
If you have a food processor use the slicer blade or slice the red cabbage and capsicum into thin slices and add to the mixing bowl.
Rinse the coriander and slice into roughly 2cm lengths. Add this to the bowl and using your fingers mix all the ingredients.
Add the beetroot to the bowl along with the olive oil and apple cider vinegar.
Toss all the ingredients in the bowl to get a good coverage.
Add some salt and pepper to taste.
Food processor note: I cut the capsicum into rough chunks big enough to feed into the food processor. You can remove the seed pod if you like but I leave them in and only remove the stalk. I feed the cabbage in straight after.