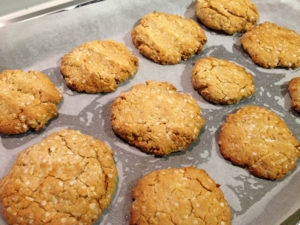 I've wanted to make a gluten free cookie for a while and so I checked my cupboard to see what I had and came up with the following.  I make all my food and I don't have many snacks and decided to make my own. My snacks need to be something that is healthy that I can make and tastes good. This is my first attempt at these cookies, they are gluten free and vegan!
Quinoa Protein Cookies
Prep Time: 10 minutes
Cooking Time: 12 minutes
Ingredients – Serves 15-20 cookies 
1 1/2 cups of quinoa flakes
1/2 cup quinoa flour
1 cup protein powder (I used Earth Protein Vanilla)
1/2 cup of shredded coconut (unsweetened)
Pinch of salt
1/2 cup organic coconut oil
1/2 cup of organic honey
1 tsp of bi-carb soda (baking soda)
2 tablespoons of water
Preparation
Preheat the oven to 160C (325F) fan forced, adjust your oven as you'll know best.
Step 1. Combine the following ingredients in a bowl (quinoa flakes, quinoa flour, protein powder, shredded coconut) mix these together well and make a well in the centre.
Step 2. Heat the coconut oil and honey so that they mix well together, stir frequently, add the water and the bicarbonate soda. Continue to stir until everything is well mixed.
Step 3. Add the liquid to the dry ingredients and mix well.
step 4. Lay some baking paper on a medium-sized oven tray and then oil the baking paper, roll the mixture into balls about 2 cm and then press down on the tray, leave a 2-3 cm gap between each one.
Step 5. Bake in the oven at the same pre-heated temperature of 160C (325F) degrees for 12-15 minutes.
Step 6. Leave the cookies on a cooling rack when their ready to eat.
Observations
I have to say that they taste really good, just slightly dry. I left some in for 12 minutes and some for 15 minutes. The ones that I left in for a little longer were crunchy around the edges so I think I'll aim to do that next time. I also think they need a fruit, like a sultana or a raisin or goji berry. I'll report back on how the fruit contributes to the flavour to them in the next batch.
Enjoy.
PS. No nutrition panel this time because half the ingredients aren't listed.